The desire for creative expression is in everyone.
As children, we discover the ability to use our hands and begin making things in piles of dirt or with sticks and rocks. The act of making something with our hands is an expression of freedom. It instills a sense of purpose. We are wired to be makers.
Fremont Makers is a custom studio woodworking shop. We design and build fine furniture, household items, and useful products for individuals and businesses. We also take on contract manufacturing projects that fit within our capabilities. When settled in Cañon City, we will add teaching and making opportunities to the mix.
We work closely with clients to design beautiful custom solutions, tailored to meet their specific needs. If you're interested in working with us, please reach out to us using the Contact info below.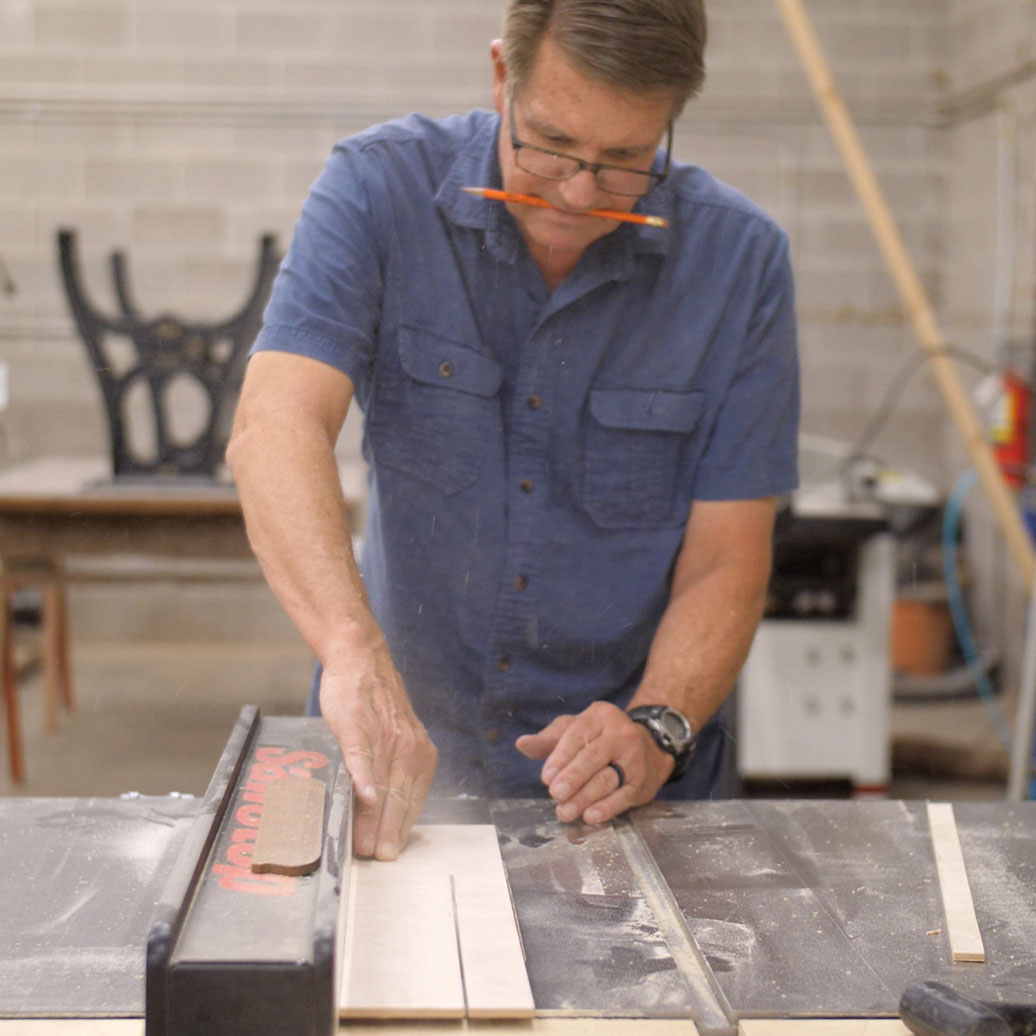 Jim Simon
Managing Partner
Jim has worked professionally in woodworking, remodeling, kitchen and bath design, product design, and manufacturing for over 40 years. He characterizes himself as a "habitual maker" who can't break the habit and as a "serial entrepreneur" with a hard-driving work ethic. He has been married to his wife and best friend for 42 years. Together they have two adult children and four grand dogs. Jim is passionate about his Christian faith, woodworking, design, reading, travel, hiking, and people.
After 23 years building a successful kitchen and bath business with his wife, Jim wanted to dive back into product design and production. In 2011, he formed the company Koostik with his wife and son, Mike, designing and making solid wood acoustic phone docks for iPhones. The company made, sold, and shipped thousands of their products across the globe.
When the various product life cycles wound down in 2016, the company donated their shop equipment to a local Denver non-profit, Mile High WorkShop. Jim was later hired by the company to be their Wood Shop Director. The organization provides jobs for individuals coming out of prison, addiction recovery, and homelessness. As the Wood Shop Director, Jim greatly expanded their capabilities in producing quality wood products in high volumes. Under his direction, wood shop teams produced over 5,000 custom-branded wood boxes to hold map collections for National Geographic. These were sold nationwide through REI stores. In 2017, Jim introduced custom wood tables to the mix of other contract manufacturing work the shop was doing. It was during this phase of table making that Jim met Stan Bullis. Stan toured the shop one day, contracted them for several custom walnut conference tables for Unbridled Solutions.
In December of 2018, Jim and Stan began discussing the creation of a new woodworking business to be located in Cañon City, Colorado. Before the company had ever launched, the two agreed that it was important to serve a greater good. This idea resulted in Fremont Makers, LLC, a business that follows the same business model as all other Unbridled companies and is dedicated to working with individuals coming out of Fremont County's prison.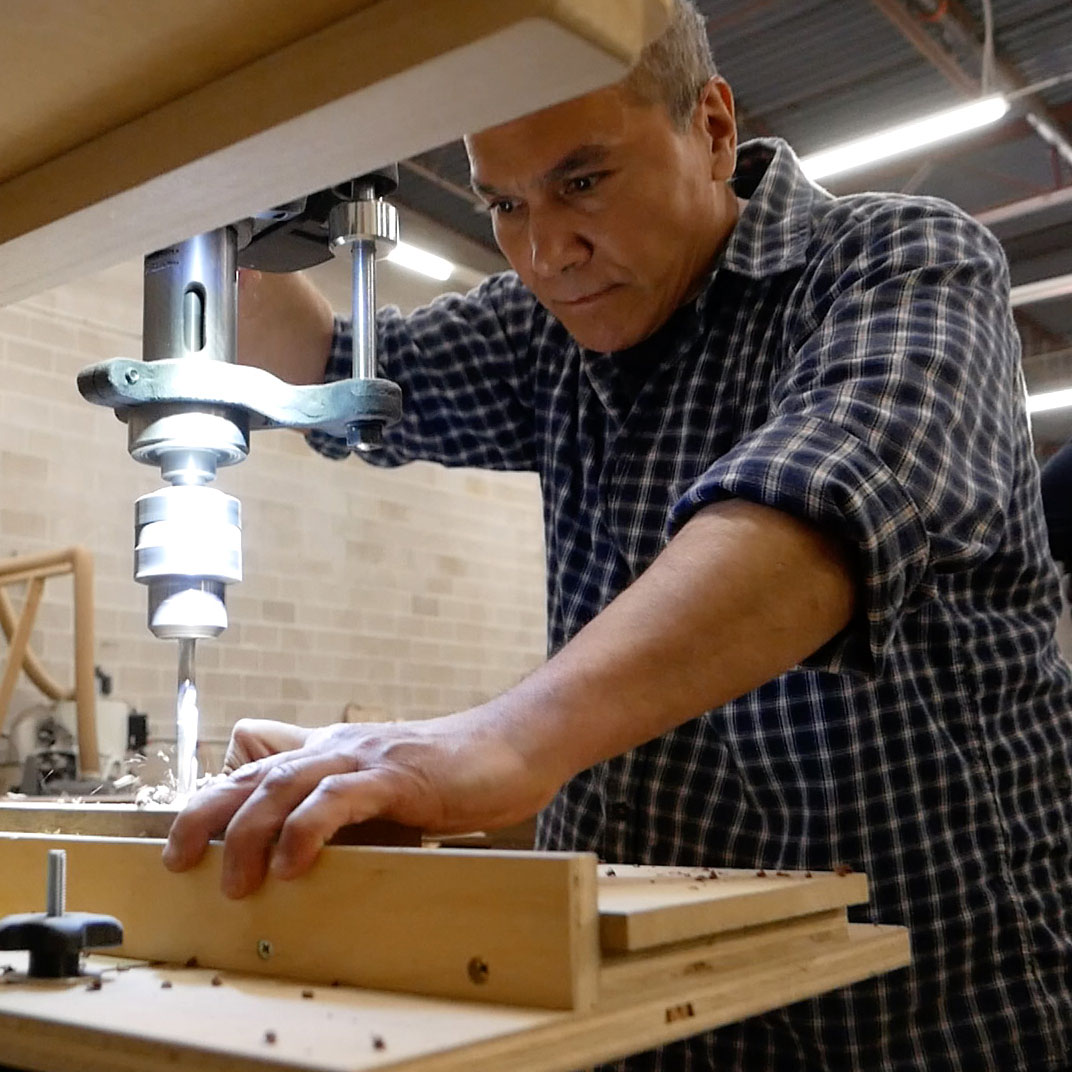 David Bueno
Associate, Wood Shop
David Bueno started his life over at the age of 60. After spending 38 consecutive years in prison, he was released in May of 2018. His greatest fears at the time of his release were whether he could get a job and find a place to live. Because he had grown up in Denver, he made his way back to the city that no longer resembled the place he'd grown up. He tried several jobs but found he could not find reliable transportation. His meager funds dwindled to the point where he was forced to spend the night in a dumpster in a dangerous part of town. He cried out to God for help. Literally, as he was praying to God, a non-profit group called Mean Streets found him and offered him food and help. He connected with a local church and made new friends.
Within a short period of time, he was introduced to another local non-profit, Bud's Warehouse, to interview for a job. Bud's is a Christian-based outreach that hires felons and others struggling to find opportunities so they can rebuild their lives. Jim and Stan had already started talks with Bud's Warehouse in Aurora, Colorado to sub-lease space for the new Fremont Makers wood shop (it would take some time to develop plans and build out the space in Cañon City where the shop would ultimately be located.) The management of Bud's mentioned they had just interviewed David and asked Jim if Fremont Makers would be interested in hiring him. An interview was set up and within minutes of their meeting, Jim knew he wanted to bring David on to help in the new shop.
David now has the security of a steady job and a clean affordable place to live. His struggles are not over, but he greets each new day with an appreciation for his freedom, his ability to keep learning and the opportunity to do meaningful work.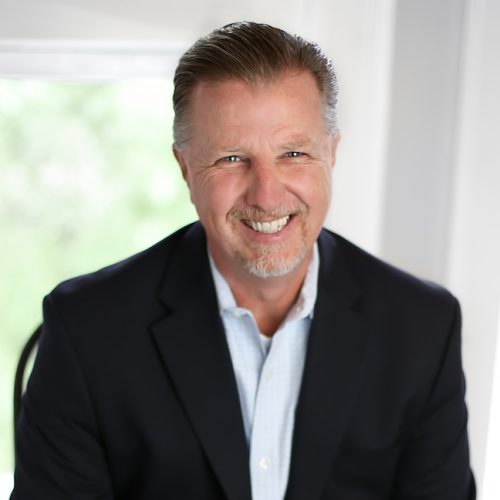 Stan Bullis
CEO, Unbridled
Stan Bullis began his career in the hospitality business at the age of 16 as a dishwasher and bus boy at the Marriott Hotel in Washington, D.C. Over time he advanced into leadership roles at both Marriott and later for the Ritz-Carlton Hotel Company. At 29, he served as CEO for a small Colorado-based travel agency that grew to become the nationally known powerhouse, TG Worldwide (with 300 agents and $250M in revenue.)
In 2001, Stan launched two organizations united by a common mission: Unbridled Solutions (for profit) and Unbridled ACTS (non-profit). Unbridled Solutions follows a business model (later infused into 17 separate Unbridled companies) which gives 20% of net profits to charity each year. Unbridled ACTS (501c3) helps create caring communities for people to discover their God-given identity, potential, and purpose in life. In 2017 alone, the combined charitable giving from Unbridled companies following the same model amounted to over $700,000.
Hospitality is at the core of everything Unbridled companies do, from corporate travel and event management to environmental design, amenity sourcing, and ground-up construction. Now, with over 18 years of experience, hosting over 350 corporate events a year, and generating over $70M in revenue; Unbridled companies are highly regarded in the hospitality industry. In 2018, Unbridled purchased the historic Hotel St. Cloud in Cañon City, Colorado. The plan is to take her through an extensive $7M+ historic renovation which will result in a 4-star, world-class hotel, fully operated by Unbridled Solutions. The hotel will become one of many powerful magnets drawing people and businesses to this little-known gem of a city in the heart of Colorado.
Fremont Makers, LLC, the newest entity in the Unbridled family will set up shop in the historic Apex building on Main Street, just a short walk down the street from the Hotel St. Cloud. Currently, the space is undergoing improvements to prepare for the new wood shop, maker space, and showroom, with plans to open in the Fall of 2019.
From Fall of 2019, our shop and showroom will be located at 427 Main St., Cañon City, CO. Until then we will be operating inside Bud's Warehouse in Aurora, CO.
If you have a project we can help with, please get in touch!
Want to keep up with what's happening at Fremont Makers?
Just sign up below and we will send you one update per month. You may Unsubscribe at any time. We will not spam you or share your contact info with anyone else, ever. Thanks!